Eye Glasses and Contact Lenses
---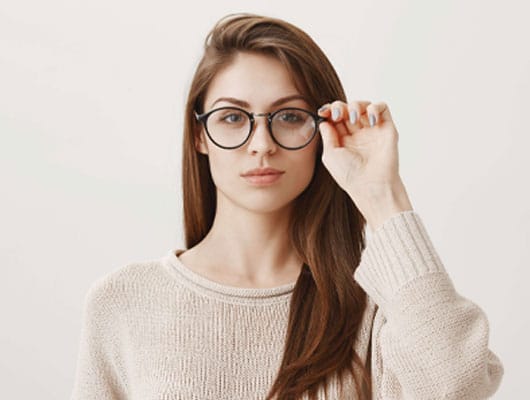 Eye Glasses
Have trouble seeing clearly? You may need eyeglasses to give you clearer vision. Working with our optometrists to determine what is affecting visual clarity and getting the right prescription eyeglasses can make a huge difference in how well you see.
The Different Types of Eyeglasses Explained
Eyeglasses are available to help people with many types of vision problems, including nearsightedness (myopia), farsightedness (hyperopia), and issues with central vision. The lenses are the part of the glasses that determine what problem is targeted. Therefore, the primary lens types include:
Single Vision Lenses – Most often used for general myopia and hyperopia, but target only one or the other.
Bifocal Lenses – Two lenses in one to correct both myopia and hyperopia.
Trifocal Lenses – Three lenses in one for near, far, and middle distances.
Progressive Lenses – Like bifocals or trifocals without visible lines.
Toric and Prism Lenses – Therapeutic lenses for problems with astigmatism and heterophoria.
Getting Eyeglasses: What to Expect During the Visit
When you have issues with your vision, the eye doctor will perform a comprehensive vision assessment that can include a number of different tests. The doctor will be looking at refractive errors, which are issues that affect how your eye focuses on light. However, they will also assess other things, such as how the eyes team together or focus when exposed to light. From here, the doctor will use various lenses in a phoropter to determine what prescription you need for glasses that help you see clearer.
Contact Lenses
---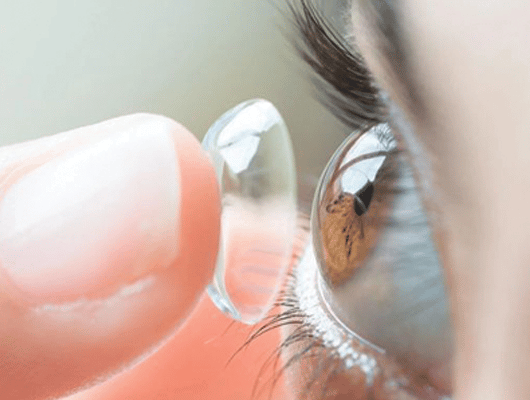 Are you considering wearing contact lenses instead of eye glasses? We can help you decide if contact lenses are a better choice for you. Take a closer look at contact lenses information below.
Contact Lenses: A Closer Look at the Types of Contacts
When it comes to contact lenses, there are actually several types that may be prescribed. Most contacts are meant specifically to correct vision, while specific types may be used for the treatment of certain eye health conditions. The most common types of contacts include:
Soft contacts – Flexible contacts that allow oxygen through; usually disposable
RGP (Rigid Gas Permeable) contacts – Stiffer, more durable lenses with oxygen permeability built in
Extended wear contact lenses – Designed to be worn continuously for several days
Specialty contact lenses -Used for the treatment of orthokeratology (ortho-k)
Decorative contact lenses are also an option. These lenses are intended to change the color or appearance of the eye, and should only be obtained after an optometrist finds you are a good candidate for the cosmetic lenses.
Getting Contact Lenses: What to Expect During Your Visit
Getting contact lenses looks a lot like getting eyeglasses with a few added steps in the process. The general process includes:
Undergoing a standard eye exam
Discussing contact lenses types and preferences

Taking measurements of the eye surface

Evaluating the quality of tear film

Fitting the contact lenses and learning how to use them
While contact lenses are not for everyone, they can be a life-changing optical change for the right patient. Interested in contact lenses for yourself or your child? Reach out to schedule an appointment to discuss your options.